The new 'Apparitions' album is now released on the Sacred Realm Records label.
Themed on all things paranormal and supernatural its a dark musical journey into the macabre,it's available now on CD and download from their website at: 
https://fearincorporated.bandcamp.com/album/apparitions
See the video for 'Ouija Board' from the album below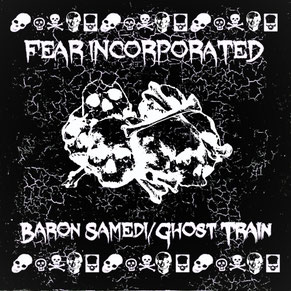 We are proud to present the new single 'Baron Samedi/Ghost Train'
now released on Sacred Realm Records.
Download your copy from their website (see link below) and take a dark macabre journey into the mouth of musical madness.
See the promo teaser for the single in the video column below.
Visit their website to get your claws on a copy now!
https://sacredrealmrecords1.bandcamp.com/
Now available to download-The 'Devilish Brood' Album!
A sinister collection of nine tracks,unreleased versions and outtakes from the 'Sawney's Cave' album
recorded during live studio sessions in 2010.
Its available to download for FREE on the Sacred Realm Records label and copies on CD are available
to buy also from their website:
https://sacredrealmrecords1.bandcamp.com
Available via Sacred Realm Records on CD and download from Sat 3rd February is our new album
'Fever Dream',An anthology of songs from our previous catalogue of macabre music.
See the promo video below and follow the link to get your copy with a choice of two album covers!
Grab yourself a new 'Fever Dream' T shirt at a special price which comes with a FREE download of the album also!
https://sacredrealmrecords1.bandcamp.com
 We are delighted to announce that the Bleak Record Label released our new 'Cloak And Dagger' album
on Friday 13th January 2017 and its available NOW on CD from their website!
Follow the link to purchase on their webshop:
See our videos below from this macabre ensemble of new dark songs featuring fiendish vintage villains
such as Jack The Ripper,Sweeney Todd,Dick Turpin and many more.
Sample a taste of the album from our previously released FREE 'Sweeney Todd' EP also on the Bleak label,See the link to download the EP below the  promo videos and stream the album now also in full on Spotify!
http://media.bleak.at/bleak/bleak.057/bleak057-mp3.zip
 There are limited copies of the special edition 'DARK CARNIVAL' CD available for sale from Secret Sin Records and the official date for the digital release is Halloween October 31st on all major digital stores.
The digitial version comes with 3 bonus tracks not included on the CD.
*Update 2018-Secret Sin Records was run by the late Voe Saint Clare who now sadly has passed away and was greatly respected and his music loved by many-You can contact Fear Incorporated via this site or on Facebook should you wish to buy one of the now very limied copies of the Dark Carnival album on CD.
it is still available to stream online and download digitally also.
Phobos by Fear Incorporated is the 2nd album from the band.
Its themed on fears and phobias and explores many different terrors on its macabre musical journey.
Released and available through the Manic Depression Record Label on CD  and on many other stores
and digital websites for download.
It spent over 13 weeks in the top 20 European Alternative Charts in 2013.
You can buy your copy on CD here: 
www.manicdepressionrecords.com 
The debut Fear Incorporated album entitled 'Sawney's Cave' is a chilling and macabre musical gothic tale describing the story of Sawney Bean the Scottish 16th century murderer and cannibal who took to a cave with his wife whereupon he preyed upon innocent travellers and passers by who he brutally murdered and ate whilst bringing up an incestuous brood of like minded children who patrolled the beaches and wastelands of Galloway ambushing and killing unwary souls to satisfy their cannabilistic appetites.
The full story is portrayed on this dark macabre album and is available at www.plasticfrogrecords.com
on CD and on most digital webstores for download now.
Fear Incorporated are a theatre macabre band featuring former members from legendary bands such as Sex Gang Children and Demented Are Go a debut album has been released through Germany's Plastic Frog Records on December 6th 2010.